The Work of Jwlhyfer de Winter
Costume as Art
My work is centered around the experience of creating a Persona and becoming that Persona through research, study and practice. I study the language they speak, their accent, the books they would read and what sort of education they have.I also create quirks and mannerisms and attempt, in every way, to fully become that person. This led to the construction and wearing of costumes (clothing, really) that these personae would wear. After a very short while of living in the SF Bay Area I got to know the local costuming community, and thus became known primarily as a costumer myself. I taught classes, organized events and acquired members for our local chapter of The International Costumer's Guild; a predominantly amatuer/hobbyist group full of extraordinarily talented costumers. Their work and others are featured in the book The Costume Maker's Art which can be found secondhand on Amazon. It's the only book which documents the often overlooked creativity and skill of convention costumers. reenactors, wearable art and others on the fringe. Some professionals are included as well and each artist was invited to write about their work, so you are able to see into what drives these extraordinary fanatics. I love 'em!

I was priviledged to be invited to share the last twenty years of my work in costume several years ago at Costume Con 21. While I was putting the presentation together I began to see more clearly what my process was and what my goal has always been - to become someone else, or perhaps just a facet of myself? There is something magical in the act of donning this clothing. It completes the person. Therefore the inside is as important as the outside. (I was taught about this by my first "costume" friends at the Renaissance Faire in Northern California way back in 1985.) One can add mystery, whimsy, allure and other character traits to the personality by the simple act of putting on clothes. People often notice what you are wearing long before they notice anything else about you, and wearing this often "over the top" clothing has started many a conversation at the local bus stop, not to mention free cab rides, nightclub access, etc. In a fascinating book about the Marchesa Luisa Casati she said; "I want to become a living work of art." What a noble enterprise.
Awards
At Worldcon 2004 in Boston, Mass. "Arwen Becomes Mortal" won a Workmanship Award in the Master Class for Trim and Colour.
At Baycon 2004 I won "Best Recreation; Master" for "Arwen Becomes Mortal" in the Baycon Masquerade.
In 2004 I was honored to win "Best in Show, Historical Interpretation" and "Best in Class, Historical Interpretation, Master" for "There are Dangers from Beauty" in the Historical Masquerade (competition) at Costume Con 22 in Decatur, Georgia. www.costume-con.org featuring the Seresina Olivia d"Hiverno costume.
In 2003 I was featured in the Italian Showcase on The Realm of Venus web site(http://realmofvenus.renaissancewoman.net/.) I am honoured to be the first to have won the Golden Rose Award for excellence in costuming for Seresina Olivia d'Hiverno. Thank you to all the people who helped and supported me that year.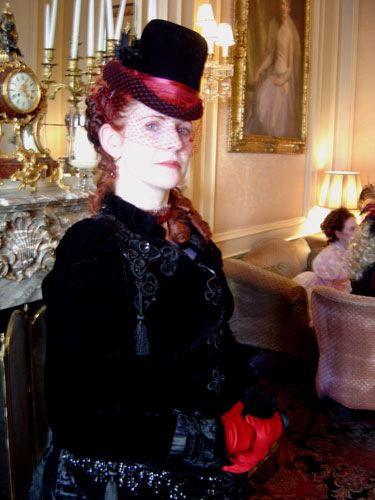 Inspiration
My inspiration comes from many places, but the foremost is probably through film. I enjoy stepping into the world the director has created and I let myself willingly suspend disbelief so that I can appreciate the director's vision fully.One film that has inspired me was Moulin Rouge!
It's possible that I wouldn't be involved in costuming after my absence of five years if it hadn't been for an exhibit of costumes from the film. Being able to examine that remarkable work up close really brought home to me how much I love the medium of costume. It was then that I decided to return to The Greater Bay Area Costumer's Guild and pursue my goals: promoting costume as an art form, teaching the art of costume, and inspiring others to enter the fantastic world of costume in all its forms. Of course I also plan to expand my work in tandem along with Live Art; combining the conceptual with installation and sculpture.

I get a lot of inspiration from reading literature and faerie tales. I love Modern Fashion and read the fashion magazines faithfully. My favorite designers are Thierry Mugler, Christian Lacroix, and John Paul Gaultier. I will pick up a magazine for one image of a fabulous hat and my apartment is full of fashion magazines waiting to be canabilized for ideas. I put them into clear pages and make huge notebooks of individual designers as well as just shoes!

Installation and Earth based Artworks fascinate and inspire as well. Their Mythology astounds me. I was brought up to appreciate the great artists; Leonardo, Michaelangelo, Rembrandt, Toulouse-Lautrec, Picasso, Frida Khalo, etc. Their work and lives fasinated me as a child.
My performance is character driven with an intense inner life which I hope to bring out by working with costume.

All of this and more combined, hopefully will serve to bring me to a realization of my hopes and dreams in Costume, Performance and Art.
follow me on twitter
https://www.youtube.com/watch?v=7dzoo8YdQhg&list=TLpFRhYKqgtzlnmGOUjfob-ouAAcVzjXoa