Seresina Olivia d'Hiverno - 1570's Venetian Courtesan Costume Diary
The Beginning
In 1998 I see the film Dangerous Beauty and begin to conceive of a Venetian Courtesan Persona, along with the beginning of her wardrobe. Having only seen the film and not being as farmiliar with the Italian/Venetian Renaissance as the English Renaissance, my initial concepts are fanciful to say the least.
I begin to search out fabrics and trims, acquiring swatches whenever possible, but I have no comrades and no venue, so the project stays in the back of my mind. There is a certain trim that I buy a yard of which catches my eye as being "the trim," and everytime I return to Poppy Fabrics I consider getting more, but even when it goes on sale and warning bells go off in my head, there's no project yet, so I talk myself out of it. (You all know what's coming, of course.)
Finally, years later, I find partner in crime and a venue! Heart of the Forest Faire seems ideal, and my partner is as enthusiastic as I am.
The project is finally off the back burner!

Headaches, Whining and Research
I start looking on the web for information and images of Venetian Courtesans. Luckily my partner has already done a bunch of research for her gown, so she directs me to Bella's site (see the links page,) where I scour the galleries for something which cries out to be made. I must admit at this point some of the odder details were threatening to quell my enthusiasm, but there are also many gowns which are awe inspiring. Unfortunately, they mostly seem to be from the 1540's.
I am very impressed by some pictures I see of Elizabeth's gown which my partner kindly printed out for me. It seems to be a nice compromise between the fantasy gowns in the film and accurate period detail.
Since my partner's costume is already finished, I need to see it ASAP, because I want us to look as if we come from the same place. Finally, I see it and it is gorgeous! So gorgeous, in fact, that I feel a little intimidated.
Also, my style is very different from the other costumer, so making these two gowns look like they come from the same place and time is going to be a challenge!
Another obstacle is that I haven't drafted a pattern in 5 years and I'm feeling a bit insecure about it. I have to start as soon as possible, I'm hoping by May 1st. (I started around May 10th)
In the meantime, I've decided on trim. Of course, it is the trim I've been eyeing at Poppy, so I decide to take a trip there. No trim. It is antique French ribbon, and it went on sale at least a year before. Vaguely, I remember this and curse myself silently. I make a solemn vow between me and whatever Deities I may worship that I will never pass up the perfect trim again.
I find a how to article online on how to do the duct tape dress form and decide to enlist the help of Sarah (www.ElizabethanLady.com) and we tape me up.
See below for the finished front. For a link to the step by step instructions see the links page (where I will have that up as soon as I can find it!)
On the right you can see me and my partner in crime at Venetian Ascension Day Event, Sunday, June 1st, 2003. (Sponsored by the GBACG at www.GBACG.org.) She is in her finished Courtesan dress, which was designed by her and Victoria Ridenour and constructed by Victoria (who also happens to be making the Queen's Dress for Heart of the Forest Faire!) I am the one on the left, wearing a make-shift but serviceable outfit. This is the same combination I wore to the "Dangerous Beauty" Ball where the two of us met. The Ascension Day event was the first time we'd gotten together and tried on our Courtesan personas.

The Corset
I decide to cut corners (hah!) by purchasing a corset pattern instead of drafting one. I decide on The Mantua Maker's 1550-1630 Quilted Pair of Bodies.
The next obstacle: I've gained about six inches since the last time I drafted a pattern or fit one on my body. I have no idea what size I am! I'm afraid to take my measurements, but I do it. According to Deb (The Mantua Maker) I'm a size 10-12. That's a medium. (phew)
However, I want bigger tabs than the ones on the medium cutting lines so I cut out a large. Big mistake! When we try to fit the pattern on me at the Renaissance Costume Clinic it is way too big. (Thank you, Shelley, for a heroic effort.)

I take it home and after Sarah has taped me up and we create the dummy, I put the fitted pattern on the dummy. There seem to be so many problems I don't even know where to start. The back is too narrow where it was taken in, the front is way too high for a Venetian courtesan gown, the armseye is a mess and the straps barely come over the shoulders. This is no fault of the person who fit me, rather a function of rushing it and cutting it out WAY too big in the first place. Grrr.
After a few days of just avoiding the thing, I decide I need help, so I call Sarah. Ack! She's getting married soon, so she can't come by. I'm not sure if I know anyone who's draping skills I trust enough who I've spoken to in the last five years!
Well, I start pinning a bit here, and a bit there. Finally, it looks like it's coming together. I approximate the boning effect by pulling the sections straight up and down and it looks really good. I can tell I'm going in the right direction. I continue pining and pulling and I get one side done. I think I've got it. All I need to do is take it in a little under the rib cage (not period, but I can use a little help there-thank you Autumn of Dark Garden for backing me up on this idea.) Then before I take it off the stand, mark the new pattern lines. After it comes off, I'll use it as a pattern, cut out and sew another mock-up and try it on with a bit of Rigilene sewn into it to approximate what it will be like with boning (thank you, Shelley.)
I should have realised my skills would come back. I should have trusted in myself. I think it's going to be all right. Big sigh of relief.
One more thing, I'm going to have to re-cut the tabs and shape them. With all these changes, I realise I probably could have started from scratch. Well, at least now I'm not afraid of draping the bodice.

At least tommorrow I get some more fitting help from Tish! (http://costume.kithary.net/) Yay!
The Camicia
I have been researching all over the web for information about the Camicia and luckily there is a lot out there! Bella's site, in particular, is incredible. I have printed the entire thing out and keep refering to it as I try to draft patterns in my head.
The first fabric I purchase (at JoAnn's, a 60% Rayon, 40% Linen for .99 per yard) turns out to be too thick, so it has been reassigned to the Roped Petticoat and will be dyed Burgundy or Black.
After a lot of searching, and some heartrending moments in Britex where I look at beautiful fabric, none of which is less than .00 per yard, I find some lovely fabric in the drapery (!) section of Poppy Fabric. It is .98, 100% cotton. There is only 3 yards and I want 5 (ankle length.) We find some lovely Batiste in the shirting section which is very close in weave, but there is only a yard and a half. I realize I have enough, as the first length will do for the body and the second is long enough for sleeves. Finally, I have my Camicia fabric!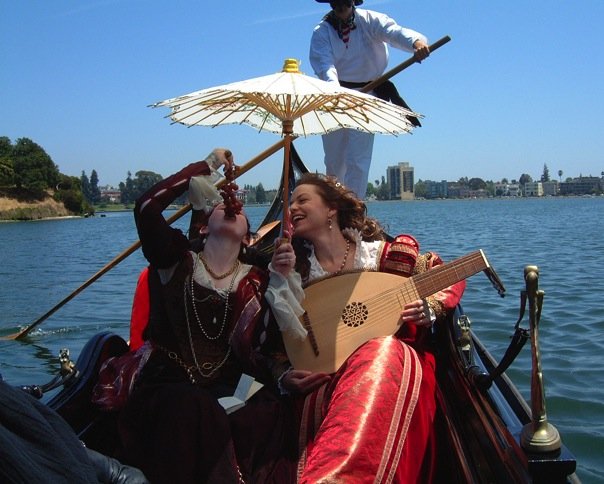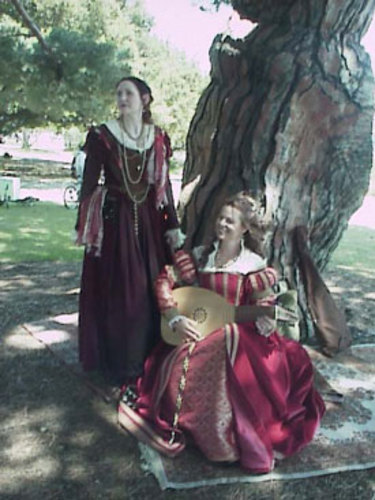 The Roped Petticoat
My partner; Tara Rech had a roped petticoat made to go under her gown, and I see that it is just the right effect, as well as practical, since wearing one will allow a little breeze under the skirts (so important.)
I decide this is a good idea, and I plan to use a zipper foot to sew the channels and the rope in the same step.
I find a HUGE roll of Jute at Pearl in San Francisco. It's only .98 so I decide to get it. Hopefully it will work. If not, I'm sure I can find some purpose for it!
If I do figure out a simple and easy way of sewing this all in one go, I'm going to teach a class on it.
The Accessories
I've started trolling the thrift stores for jewellery and have found some great gold chains.
I am hoping to make a Zibellino (a "flea fur") so I am looking for findings to put on the paws and perhaps the snout, and a chain to run out of the mouth. I've found some promising pieces.
I found a cache of burgundy and pinkish Ostrich feathers at Pearl for $.32 each, along with some Peacock feathers which have been dyed red and burgundy. Perfect for my fan. One of the paintings I looked at in Shelley's Italian albums at the Renaissance Costume Clinic showed a woman with Pink (!) feathers in her fan, so I am going to approach a bit of pink. All I need is a handle. I am considering a wooden tassel form.
I'll probably put a pocket or two in my skirt side seams, so hopefully I won't need a bag.
I have been dying hairpeices to match my hair. I have a great braided bun with pearls wound through it. I prefer Human Hair, which is abundant in Oakland. You can dye it, and it breaths better than synthetic. It also lasts forever.
More on all this later.
The Gown
I'm on a budget, so I was eager to find fabric in my fabric closet that would work.
My search yeilds up some cotton velvet in the same shade as my Elizabethan Riding or Hunting Gown. What if I just make a new bodice and trim the old overskirt? Hm.
I also find a bolt of cream uphoslstery damask which is ideal, except it is cream, which would get too dirty at the Faire, which is held out of doors. I consider dyeing it a salmon or similar colour; a bit Shakespeare in Love/Elizabeth.
A hah! Overlooked for three years, having been covering an ugly table, is "the fabric." A beautiful damask in a plummy burgundy with a lovely large pattern, it will be perfect and I'm fairly sure there is enough yardage.
Another revelation happens when I see the fabric in the sunlight for the first time. How it gleams and glows. The pattern really pops out and the backround is deep, rich and glossy in the best way possible. I am starting to get excited.